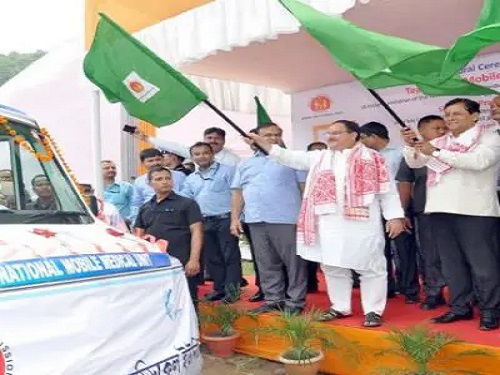 Union Health Minister Launches Historic Healthcare Project in Assam
Date: 20th JUNE 2017
GUWAHATI: Hon'ble Union Health Minister, Shri JP Nadda, launched Mobile Medical Units (MMUs) Assam, a historic healthcare project that is aimed at Improving healthcare service delivery & health outcomes in underserved areas of the state in Guwahati on 20th June, 2017. Hon'ble Chief Minister of Assam, Shri Sarbananda Sonowal; Hon'ble Health Minister of Assam, Dr Himanta Biswa Sarma; along with Shri Samir Kumar Sinha (IAS), Principal Secretary, Health & Family Welfare Department, Govt of Assam; Shri JVN Subramanayam (IAS), Mission Director, NHM-Assam; Dr AC Baishya, Executive Director, NHM-Assam and other senior officials of the NHM graced the occasion with their valuable presence.
The Project
Under the signature project, the State Health Society, National Health Mission (NHM) Assam and HLFPPT (Hindustan Latex Family Planning Promotion Trust) have entered into a landmark agreement to operationalise 130 MMUs in PPP mode. These MMUs shall provide primary & selective secondary healthcare services & medicines free of cost to nearly 26 lakh population in about 2,600 villages spread across all districts of Assam.
All 130 MMUs shall be maintained and operated by HLFPPT a not-for-profit health services organisation having pan-India presence with funding support from State Health Society, NHM-Assam. This includes operationalisation of 80 Tea Garden MMUs that shall cater to the health needs of population residing/working in 320 tea gardens (with each MMU covering approximately four tea gardens) and another 50 MMUs for the general population of the state.
This is one-of-its-kind project that is being rolled out on a massive scale. About 20% of Assam's population belongs to the tea growing communities, which are one of the most backward communities in the state. Despite legislation applicable to Tea Garden Management, majority of tea garden population is deprived of adequate healthcare facilities, says Sharad Agarwal, CEO, HLFPPT. Assam is facing a very high MMR, especially in the districts with high tea garden population (MMR more than 404 per lakh live births), he adds.
Services
In order to ensure comprehensive primary healthcare services along with diagnostics facilities, NHM has sanctioned a long-term intervention of at least five years through 130 dedicated MMUs, with major focus on Tea Garden areas. More Tea gardens shall be covered under the scheme in next phase.
Each MMU shall be equipped with one Medical Officer (MBBS), Nursing Staff (two GNMs/ANMs), one Pharmacist & one Lab Technician. The MMUs shall offer Maternal & Child Healthcare services, Reproductive Healthcare, Contraceptive services, Neonatal & Infant Healthcare, Management of chronic Communicable & common Non-Communicable diseases, Nutritional services, Eye Care/ENT care, Dental Care, Behaviour Change Communication Services (for improving health seeking behaviour of community members), etc.
These will also offer Diagnostic Services including Diabetes Profile, Hematology, KFT, LFT, Lipid Profile, Tests for Dengue & Malaria, Pregnancy Test, etc. The project has made provision for Quality Assurance and Monitoring.
Challenges
Talking about the challenges associated with this historic project, Mr Agarwal points out: Considering the hilly & tough terrain of Assam, it shall be a revolutionary step in taking health services at the doorstep of communities living in far-flung & remote areas and in tea gardens of the state.
However, we have an extensive experience in operating MMUs in some of the most challenging terrains in India including Thar Desserts of Rajasthan, Forests of Bastar, Western Ghats of Kerala, Hills of Tehri & Chamoli (Uttarakhand), Urban Slums in Noida & Gurgaon, and in Disturbed Areas such as Dantewada & Sukma in Chhattisgarh and Malkangiri in Odisha. Through this project we shall be taking health solutions to nearly 26 lakh people in the state, he adds.