4. Supporting Assam Government to fight against COVID1-9 through Mobile Medical Unit, Assam
The team of HLFPPT Mobile Medical Unit (MMU), Assam has been supporting the government initiatives in preventing COVID-19 by means of varied actions. This includes – Stamping and Sticker pasting of Quarantine/Home; Door-to-Door Awareness Sessions; Monitoring of COVID19 patient; Providing Medical guidance with the help of Local Police; Providing Transportation facilities to the patients showing symptoms; Extending counselling support through COVID19 helpline etc. Besides;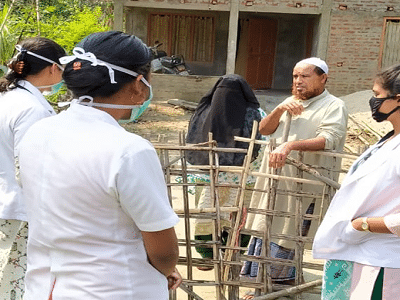 To support the Local administration, HLFPPT MMU Cachar-Assam team has started with quarantine stamping on the hand of outsiders / migrants. The team is also supporting the administration by monitoring 55 quarantine isolation facilities across the all tea gardens of Cachar district
Hand Sanitizers and Masks are being provided by the local and state authorities to the technical staff of HLFPPT for further distribution and also for their own protection
Pasting of Stickers outside the houses where quarantined people are staying, stamping of individuals who have entered the state from different states after 14th March, screening of quarantined individuals are also being done by HLFPPT State Team
A team of doctor and Nurse is also conducting door to door counselling in every district of Assam with support from local medical authorities
Following the Social Distancing Guidelines issued by State and Central Government; HLFPPT team is also conducting OPD to ensure primary care of the population and prevention of COVID-19
Several Small Group Sessions are also being conducted spread awareness on the importance of Social Distancing and COVID19 disease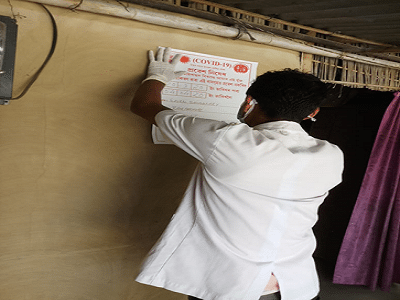 5. Implementing Innovative Ideas to Support Local Communities under CSR project of PTC India Project in Delhi
Entire nation is following the lockdown guidelines and is helping Government to contain the COVID19 from spreading in masses. By doing this, most of the local community are inside Home. But most of them, who are on medications, need regular basis medical consultation and medicines to complete the prescribed course. In wake of this, HLFPPT with support of PTC has introduced an innovative concept in Delhi to start taking OPDs digitally (Phone Social Sites etc) and and provide essential medical services to the patient after assessment of requirements.. Some of these are mentioned below:
OPD on Call
Our Medical Officers are giving 'OPD on Call', in which we are trying to provide Medical advice to our existing beneficiaries as normal OPDs are not possible during this lockdown.
This activity works in 3 Simple Steps (3 D's):
1) Dialling:
Initially (Step-1), our Staff Nurse calls to the beneficiary through our existing patient's database to know about them and their families' well-being also making them aware regarding the current situation and how to tackle it.
2) Diagnosing:
After this (Step-2), people who are found suitable for medical advice will then be connected to our Medical Officers for professional advice and guidance.
3) Delivering:
Call to action (Step-3), our, Mobile Medical Unit delivers the required medicines to the people who are not able to buy or arrange medicines on their own at their doorsteps.
Apart from medical advice and free medicines, awareness related to COVID-19 is also taking places through 'OPD on Call'.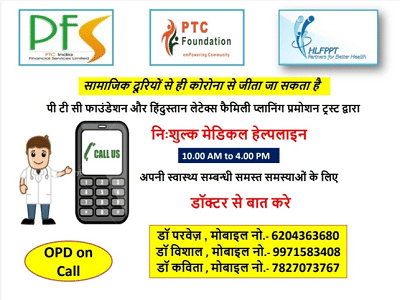 6. Delivering medicines at Door-Step to PLHIVs in Rajasthan, Madhya Pradesh and Telangana
People Living with HIV (PLHIV) have always been vulnerable and they need to continue taking their prescribed medicines for better and fast recovery. In connection with this, due to lockdown, , many of the clients who used to visit ART centre (A dedicated centre to provide medicines and manage HIV patient) are stuck at their homes / migrated to their native places.
Some of them needed medical consultation or need professional advices regarding their symptoms the others need medicines to continue the process of recovering.
Keeping the same in view, HLFPPT's Care and Support Centres (CSC) under Rajasthan HIV team reached out to the existing patients with medicines and also made them aware about Corona Virus. With the help of our Donor partners, a special permission has been obtained from the local authorities in this regard.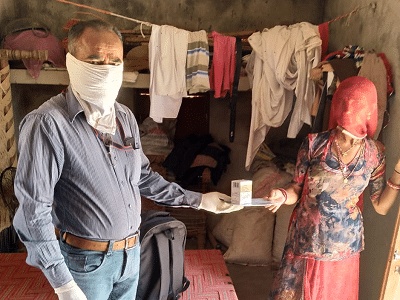 Our O.R.W Officer Mr. Gurmel from FIRTC (Hanumangarh) of CHC, Ganganagar (Rajasthan) reached to the clients living in Hanumangarh with medicines and also made them aware about Corona Virus.
Not just this, Our Rajasthan team distributed the essential food items to them with the financial support received from various donor partners to fight against COVID-19.
Along the similar lines, HLFPPT Telaganga and Madhya Pradesh HIV Teams have also started delivery of Antiretroviral (ARV) drugs to the PLHIVs and Children Living with HIV (CLHIV) at their door step.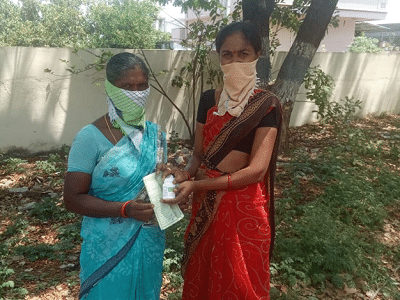 7. Committed to Ensuring Essential health services to the Communities through National Health Mission- Uttarakhand
National Health Mission Uttarakhand has deployed HLFPPT's 15 Mobile Medical Units (running under 5 projects) in various districts of the State to serve the communities in fighting the pandemic COVID-19. Some of the team members are working in control room for assisting the experts in district hospital while MMUs are being deployed for providing ambulatory services to far flung areas. As of now, 10MMUs are actively working as per the guidance of NHM, namely, 2 MMUs each in Pauri, Pithoragarh, Chamoli and One MMU each in Nainital, Haridwar, Bageshwar and Uttarkashi.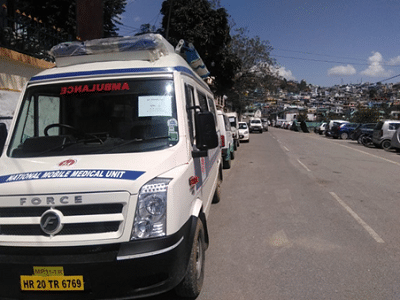 Apart from the above, a training programs on COVID-19 was arranged by Chief Medical Officer (Bageshwar Uttarakhand), which was attended by MMU State team.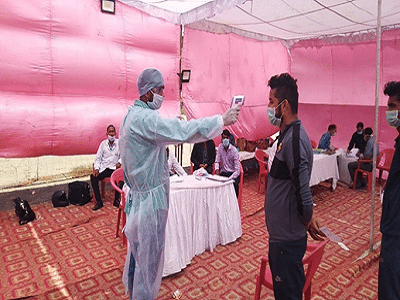 8. Other COVID19 related awareness & CSR activities: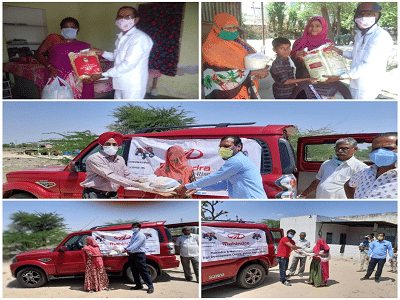 a) With the Financial support from Mahindra Rise Foundation under its CSR initiatives, HLFPPT HIV/AIDS team facilitated distribution of Medicine and Nutritional/Ration Kit in Jaipur.
b) Community Awareness Session on COVID-19 was conducted and IEC leaflets were distributed by MMU-Assam Team.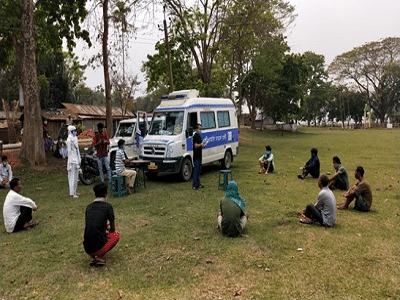 c) A small community awareness session was organised in Uttarakhnad by HLFPPT Tehri MMU-UK team to sensitize local community about COVID-19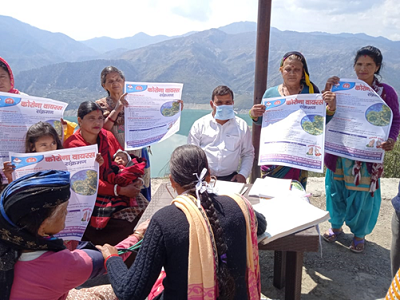 d) In Delhi under CSR Project of PTC India, various Community Awareness sessions have been done on "Detection and Prevention from COVID-19" in South East Delhi, North East and North West Districts of Delhi by Mobile Health Clinics.
e) Under the CSR Project of NPCIL, "Corona Virus Awareness Sessions" were conducted in remote village called Khinda in Odisha State.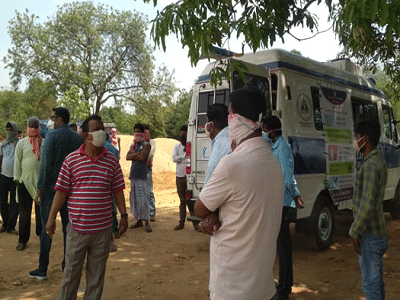 f) COVID 19 awareness & Home quarantine monitoring by MMU 064 at Bajrangpur TE and Indragarh TE, Assam.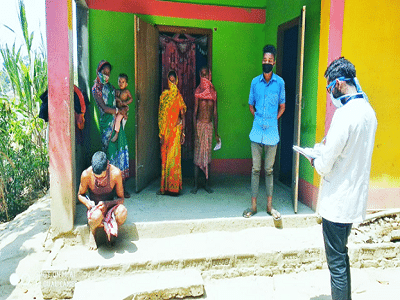 g) HLFPPT Counsellor Mr. Pradeep, AFHC Pansemal providing support in screening of suspected cases at CHC Pansemal.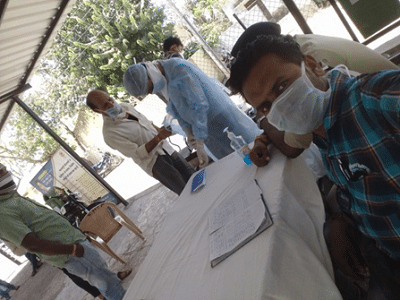 Distribution of Sehat Ki Tokri to marginalised communities in partnership with PFS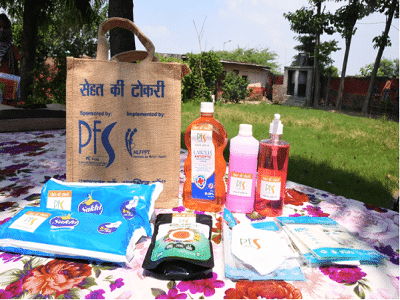 In association with PTC India Financial Services Limited (PFS), On September 03rd, 2020, HLFPPT distributed 50 "COVID-19 Relief Kits named- Sehat Ki Tokri" (A Basket of Good Health) out of total 800 Kits to be distributed in phase manner.
The distribution took place in Okhla Extension area where many marginalised families are living without having good medical facilities which makes them more vulnerable.
Not just distribution, an awareness session on personal health hygiene, preventive measures, and how efficiently this kit can be used, was demonstrated by the HLFPPT team.
On behalf of the community, we are thankful to the Donor Partner (PFS) for such a lovely initiative and trusting on #HLFPPT for the purpose.