Corona virus relief donation in India
Dear Donors and Supporters
Your Every single donation towards Corona relief matters a lot !! Food Shelters Near Me

In India COVID-19 pandemic marks as an unprecedented time in medical history that will require the best of humanity to overcome. The coronavirus, widely known as COVID19 has taken thousands of lives across the globe and spread to nearly every States of India. Your donation to this fund will support immediate and long-term relief and recovery in vulnerable communities during one of the most challenging times we have collectively faced.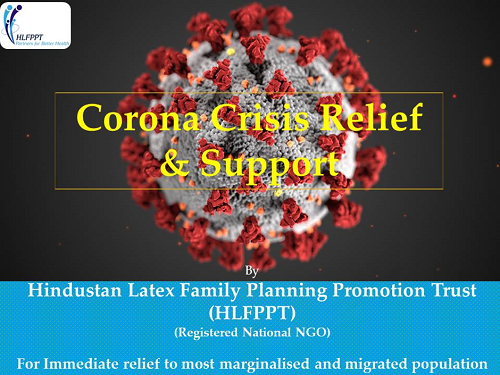 This crisis threatens everyone's way of life, but it is especially difficult for people who are already vulnerable, including those with pre-existing medical conditions, older adults, individuals experiencing homelessness, refugees and migrants, wage workers, and those with inflexible jobs.
Your donation to this fund will help stop the #COVID19 virus's spread and give immediate relief to the migrated Communities and Health workers, working as front line workers in this crisis. Your donation would also be helpful to provide various essential kits to the persons who are affected badly.
Your Donation enables HLFPPT to act on:
Send our health volunteer, nurses, technical workers/staffs and other front line responders to communities in need.
Distribution of Community Health Worker Protection Kit comprising of- mask, dettol, PPE Kit, gloves, hand towels and hand sanitizer.
Deliver essential items to struggling families and elderly in quarantined cities, Blocks, Villages and in refugee camps.
Will help us to produce Masks and Hand Sanitizer in bulk for free distribution and provide help to various health facilities.
1. How Community will be benefitted:
Essential Surviving Kit containing rice, daal, biscuit, oil, salt, poha, bread etc
Community Protection Kit comprising Dettol, detergent, sanitary pads, hand towel, gel based hand sanitiser, hand soaps etc
We will also promote community hygiene and fact awareness efforts/activities by the workers.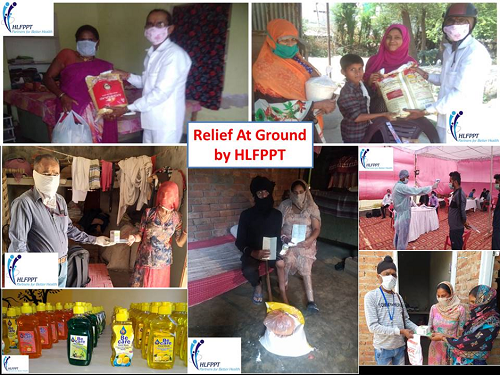 2. How Health workers will be benefitted:
Health Worker Protection Kit- Health workers are more vulnerable towards Corona, if they visit and provide essential medical help to the targeted population without proper protection gears. Hence, we would like to provide them lifesaving kit to protect themselves too. The Kit will includes- Mask-5 pc, PPE Kit-1 set, Hand Sanitiser, Soap, Dettol, Towel, Gloves etc
3. Mass benefits to fight against Corona:
Your Donation/Charity, no matter whether it comes under CSR activities / individual or donation made by an agency, will help us to produce Masks and Sanitisers in bulk for free distribution to general public through proper chain and delivery at public health facilities in coordination with state and central governments.
Through this fundraising effort, HLFPPT would like to provide immediate relief to the most vulnerable and marginalised migrated/daily wage workers and community health workers. This project will benefit people living in hotspots identified by Delhi and UP government.
Your generous and kind help will strengthen and motivate our front line workers/volunteers to add more valuable items in daily corona relief activities at ground. We and our team are united with a Mantra "Together- We Can" !!!
Donate online by clicking any of the links mentioned below.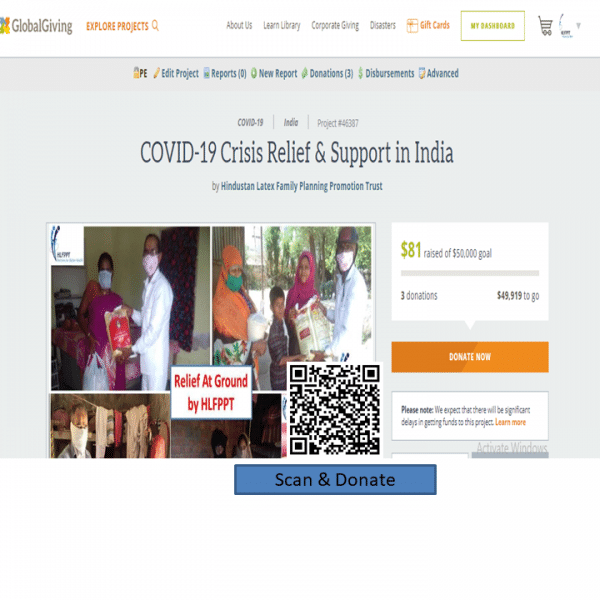 You can Donate through Direct Bank transfer also, which save us time and we act immediately to provide on ground help. We Urge you to do online transfer through below mentioned bank details:
For NEFT/RTGS/Bank Transfer
Bank: HDFC Bank Ltd.
In the name of : HLFPPT
A/c No.: 50100106755562
A/c Type: Savings Account
Bank Address: Plot No-118, Block-D, Sector-26, Noida-201301
IFSC Code: HDFC0000651
MICR Code: 110240112
By Cheque/Draft :
Please make your cheque/draft in the name of "HLFPPT" and send it to Finance Department, B-14A, Second Floor, Sector-62, Gautam Budh Nagar, Noida-201307 (UP) along with following details:
Name (As mentioned in Pan Card)
Pan Card No:
Aadhar No:
Address :
Mobile/Contact No :
Email Id :
Please Note :
For issuance of receipt, please make sure to provide above mentioned details to donate@hlfppt.org, with date & mode of transfer, transfer code/cheque number so that donation can be tracked.
As per Indian Tax Laws, it is mandatory to have full name and address of a contributor else it's treated as anonymous and is subject to taxation.
All donation made are eligible for tax deduction u/s 80G of the Income Tax Act 1961.
For any queries, write to us on donate@hlfppt.org or call on 0120-4673673