MMU Saved me from Leprosy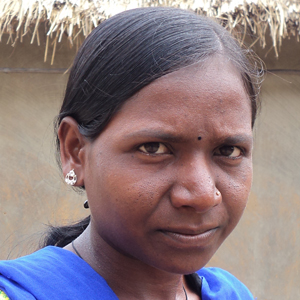 It was a red rash on her left hand that was troubling Basini Hemram for quite some time. The 24-year-old had tried home remedies, but nothing gave her respite. So, when HLFPPTÔÇÖs Mobile Medical Unit (MMU) made its fortnightly visit to her village Phuljhor on 2nd December 2015, Basini was among the first to turn up for health check-up. Phuljhor village in Kanksa Block, Bardhaman district, West Bengal, is predominantly inhabited by tribal communities and is among the 25 villages in Durgapur sub-division that the health van is catering to. MMU Medical Team diagnosed the skin patch as leprosy and referred her to Durgapur Sub-Divisional Hospital.
However, when the MMU returned to Phuljhor after a fortnight, it found that Basini hadnÔÇÖt started her treatment yet. Daughter of a daily wage labourer and eldest among her four siblings, Basini was reluctant for leprosy treatment owing to social taboos, lack of awareness and financial constraints. The MMU team counselled her father, Nanda Hemram, about her medical condition and the need for timely treatment. Simultaneously, the team coordinated with SD Hospital and found that there was no specialist doctor. The team then approached BMOH (Block Medical Officer of Health) at Panagarh, who linked Basini with PHC at Shibpur. The teamÔÇÖs efforts paid off as BasiniÔÇÖs treatment started before it was too late. Currently, she is on medication and her condition has improved significantly.
HLFPPT has been operating the MMU across 25 villages in Durgapur, West Bengal, in partnership with Essar Oil Ltd as CSR initiative since April 2014.