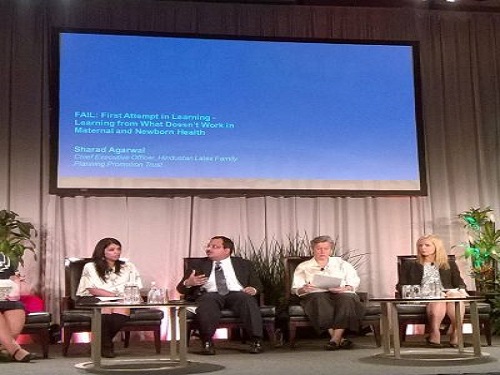 Global Exchange
Sharing Experiences at Global Platforms
The third quarter of FY 15-16 brought multiple opportunities for HLFPPT to participate in prestigious forums worldwide that validated the expertise of HLFPPT on RMNCH+A issues, and also gave tremendous scope to bring home global best practices
If you are success-conscious, you have to start acknowledging your failures and learn from them. This was the central message given by HLFPPT CEO, Sharad Agarwal, to an audience comprising researchers, policymakers, funders, implementers, and other stakeholders at the Global Maternal Newborn Health Conference held at Mexico City during 18-21st October 2015. He was speaking at a Plenary Session on FAIL: First Attempt in Learning Learning from What doesn't Work in Maternal and Newborn Health, specifically on HLFPPT's experience with instituting Merrygold Health Network (MGHN). He was sharing the dais with Katja Iversen (Moderator), CEO, Women Deliver; Priya Agrawal, Executive Director, Merck for Mothers; France Donnay, Consultant, Women's Health; Margaret Kruk, Associate Professor of Global Health, Harvard TH Chan School of Public Health; and Richard Horton, Editor-in-Chief, The Lancet. The session was introduced by Koki Agarwal, Director, USAID's Maternal and Child Survival Program.
Destigmatise Failure
Recalling the initial hiccups faced with MGHN, Mr Agarwal shared how the decision of involving untrained, informal providers / rural practitioners with the network had proved wrong initially as the quality of services was deteriorating. At one point we faced the dilemma of either firing our cadre of 5,000 members or lose credibility among donors, clients and community members forever. We chose the former and created a new cadre of practitioners (Merrytarang Members) who were open to learn, said the CEO.
Stressing on the need for destigmatising failure, he said: What started with 3 demonstration sites in Uttar Pradesh in 2004 has today transformed into a network of 637 (504) hospitals across India, making us the largest social franchising network in the country. This has been possible because we were committed to serve the community and considered failures as opportunities for mid course-corrections.
Abstract Presentation
The three-day GMNH Conference gave further opportunity to showcase our expertise. Dr Abha Jha, National Manager – Medical Services, HLFPPT, made an abstract presentation titled, Scaling Affordable Quality Care through a Financially Sustainable Social Franchise in India. She explained the strategy adopted under MGHN that has enabled delivery of quality services at affordable prices (50-60% less than the market price).
As a franchisor, HLFPPT trains franchisee staff on a range of topics including Maternal and Newborn Healthcare (MNH) and Family Planning, Infection Prevention, Quality Assurance, and Reporting and Documentation via Health Management Information System (HMIS), informed Dr Jha. She further explained the various types of quality audits (Client Experience, Patient Safety, Competence of Provider, Adherence to Clinical Protocol, Facility Readiness) that are conducted periodically across all 637 hospitals.
This has resulted in wide recognition. The Government of India has recognised MGHN as the only PPP model under National Health Mission and has given HLFPPT the mandate to support 1,000 private providers in UP for providing Reproductive and Child Healthcare (RCH) services, she stated.
FIGO World Congress, Canada
Further, Mr Agarwal represented HLFPPT in the 21st FIGO (International Federation of Gynaecology and Obstetrics) World Congress of Gynaecology and Obstetrics, held during 4th-9th October 2015 in Vancouver, Canada, whereby he emphasised on how quality of care has been integrated into a high-volume, scalable and sustainable social franchise model called Merrygold Health Network. He informed how MGHN is offering affordable maternal health and family planning services across multiple states in India. He was speaking at a session on Enabling Sustainable Quality Care among Local Private Providers in India and Uganda. This session focussed on the role of the local private sector in maternal healthcare, highlighting key challenges and lessons learned in integrating quality assurance & quality improvement efforts into various private provider models and explored mechanisms to enable sustainable quality maternal care in the local private health sector.
The key objectives of the session were to: Enhance understanding of the size and scope of the local private health sector in offering maternal health and family planning services; Share how different types of private providers with varying case loads, human resource capacities, and business models are improving quality of care; and Showcase a practical quality of care toolkit on how to integrate quality standards for improving intrapartum care in private care settings.
Mr Agarwal mentioned that under MGHN, engaging the private sector is seen as the key strategy for improving Reproductive & Child Healthcare Outcomes. Other panellists included Dr Priya Agrawal from Merck for Mothers, who set context and overview of the session; Dr Frank Kaharuza from AOGU (Association of Obstetricians and Gynaecologists of Uganda) and Dr Dorothy Balaba from PACE (PSIs Uganda affiliate), who demonstrated how social franchising has expanded the service offerings of small, rural private providers from family planning to include intrapartum care and improved service quality in Rural and Peri-urban Uganda. Dr Hema Divakar from FOGSI (Federation of Obstetric and Gynaecological Societies of India) and Dr Somesh Kumar from Jhpiego India presented practical Toolkit developed for improving the quality of intrapartum care in local private care settings.
Global Female Condom Conference 2015, South Africa

It was her presentation titled, Who Decides for Me narrating real-life stories of women, their vulnerabilities, perceived need for Female Condom (FC) and their stories of empowerment after adoption of FC that left the audience silent and awestruck. Dr Anasua Bagchi, Head-TSD, HLFPPT, was speaking at the 3rd Global Female Condom Conference 2015, hosted by UAFC (Universal Access to Female Condoms) along with PSI, CHANGE and MatCH Research in Durban, South Africa, during 1st-3rd December 2015.

Lets Take the Female Condoms to the Next Level was the theme of the conference that was attended by Government Authorities, Donors Agencies, Policy Makers, Implementers, Manufacturers, Community Members as well as Educational and Research Institutes and Advocates from more than 20 countries. In a Track on Advocacy, Campaigning & Communication, Dr Bagchi emphasised on the larger need for Advocacy for FC and sharing of similar experiences across countries.

The three-day conference witnessed active participation from HLFPPT. HLLs Velvet Female Condom and HLFPPTs Female Condom Communication Materials were among the learning tools, IEC materials and products displayed in the exhibition area.

Moreover, in a Plenary Session on Variety in the Market with Manufacturers, on behalf of HLL Lifecare Ltd, HLFPPT presented HLLs Velvet product details, marketing strategy and shared vision of HLL for making the product cost-effective and available to all. A short film on the FC journey in India and its implication in womens live was screened. HLLs FC Promotional Plan in India and at global platform was shared too. Additional perspective on the product status and WHO pre-qualification was shared by Mr Sajeev Joseph from HLL Lifecare Ltd. Many participants endorsed that HLLs vision of making the product available to all was not only a business proposition but a genuine call to make this unique product available to the community at large. Other panelists included Luuk Jan Boon (Moderator), i+solutions, Netherlands; Om Garg, Cupid Ltd, India; Denise Van Dijk, Female Health Company, UK; representative of PATH.

The conference: Established Recognition of HLL Lifecare Ltd and HLFPPT as major stakeholders in UAFC in global promotion; Invoked Global Interest in HLL product and HLFPPTs programming; Positioned them as committed SRH Promoters and Advocate in India with global vision. ; Professional and Strategic Relationship building with PATH International, African representatives and USA-based Female Condom Coalition Advocacy Body.