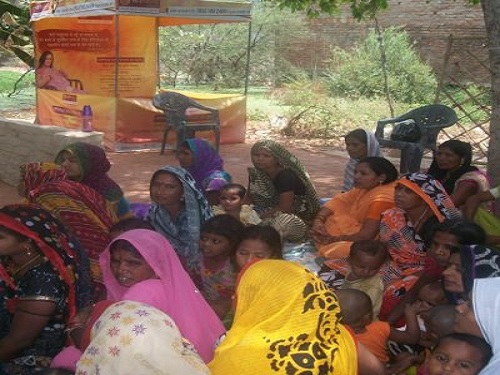 Gifting Safe Pregnancy & Safe Births
After winning an open challenge on Global Giving to raise $5,000 from 40 individual donors within ten days, HLFPPT is now leveraging the synergy of crowdfunding to help 500 underprivileged women in Uttar Pradesh with safe pregnancy & delivery
It is often said that pregnancy is the most beautiful experience in a womans life. However, not all pregnancies end up as happy birth stories. Every 8 minutes a woman in India dies during pregnancy and childbirth, whereas 7.6 lakh newborns die every year, the highest for any country in the world. In fact, India also tops the list of stillbirths, accounting for nearly one-fourth of stillborn babies worldwide.
These are not mere statistics. Each one entails the heavy burden of lost hopes, indefinable grief and devastated families. To add to this collective frustration is the fact that we are losing our young mothers and newborns to some of the most evitable conditions such as anaemia, haemorrhage and sepsis among mothers and low birth weight, neonatal infections, birth asphyxia and trauma among newborns. Neglected outlook for mother & child healthcare (MCH), coupled with lack of awareness, resources and access to quality healthcare services, especially during labour, is largely to be blamed for the dismal scenario.
Need for Intervention
It has widely been researched that expanded intra-partum, obstetric and neonatal care can save many of these lives. Going by a 2014 Lancet report, titled Can available interventions end preventable deaths in mothers, newborn babies, and stillbirths, and at what cost: Increased coverage and quality of preconception, antenatal, intra-partum, and postnatal interventions by 2025 could avert 71% of neonatal deaths, 33% of stillbirths, and 54% of maternal deaths per year globally.
However, there is lack of hospitals in India which provide obstetric and postpartum care at a price that is affordable for all sections. Pregnant women from economically weak backgrounds are often deprived of basic tests, medicines and nutrition, thus putting theirs as well as their babies lives at risk.
HLFPPT has been working towards addressing this problem through the inception of an economically sustainable, easily scalable and innovative social franchising model, called Merrygold Health Network (MGHN). MGHN creates provision of high quality MCH services, safe abortions and family planning services at reasonable rates and promotes safe motherhood and institutional deliveries among the underserved.
So far, HLFPPT has partnered with 300 hospitals in the state of Uttar Pradesh to provide safe pregnancy and delivery facilities to poor women. This includes medical checkups, counselling support, medicines, tests, nutritional supplements, delivery care, etc. More than 500,000 women have availed services through MGHN hospitals.
To further extend its reach, HLFPPT has initiated a unique project that intends to provide these healthcare services at MGHN hospitals free of cost to 500 expecting mothers who belong to below poverty level in UP. HLFPPT is utilising the crowdfunding platform of Global Giving to raise funds for this project.
Crowdfunding Platform
Global Giving is a charity fundraising web site that gives social entrepreneurs and non-profits from anywhere in the world a chance to raise the money that they need to improve their communities. Since 2002, Global Giving has raised $183,864,716 from 470,092 donors who have supported 12,465 projects. Seeing potential of this platform, HLFPPT registered its application on Global Giving website and posted its project on Safe pregnancy & delivery for 500 poor women in Uttar Pradesh, India. HLFPPT qualified the Open Challenge in March 2015 by raising USD 5,000 from 40 unique individual donors within time span of 10 days. Consequently, our project has been granted a permanent slot on Global Giving website.
Unique Project
Through this project, HLFPPT intends to provide much-needed healthcare to 500 poor pregnant women in the state of Uttar Pradesh and enable them to deliver healthy babies under medical supervision. By contributing as little as $10 (INR 635), individual donors can become a part of a poor womans birth story. Donors can choose from a range of donation amount from $10 to $1,000 (INR 635 to INR 63,500) for sponsoring specific health services for pregnant women.
This project is contributing towards prevention of needless deaths of mothers by ensuring that at least 500 poor pregnant women are blessed with healthy babies. Given the key role that mothers play in the health of their families, the programme will also contribute towards improving the overall quality of healthcare in the state, starting with one mother-baby pair at a time.
HLFPPT plans to raise $50,000 (INR 3,175,000) this year. So far, the project has successfully raised about $10,509 (INR 670,000) from 79 unique individual donors and through this it has sponsored safe deliveries for over 15 women belonging to poor socio-economic strata in the state of UP.
CASE STUDY

I am grateful to the donors for sponsoring my pregnancy

Rekha and Ravi Dewakar live on poor means in Shahpur village (Kanpur district) in Uttar Pradesh. Ravi, a laundry worker, is the sole earning member of his family. Last year, his wife Rekha, who is just 20 years old, got pregnant with their first child. Being first-time pregnant, her excitement was natural. However, worries engulfed the couple during one of the checkups when their doctor informed them that the baby was not in normal position, which could lead to complications during delivery.

I barely earn enough for the two of us and this news of complication was worrisome for me. The very thought of my inability in providing proper healthcare for my baby gave me restless nights. I didn't have enough savings to afford a safe delivery, says Ravi.

When they shared their plight with Merrygold's Outreach Worker, Mamta, she considered their case under the project. They live in a one-room rented place without any assets on a meagre monthly income of $80 (INR 5,000). Global Giving provided the much needed support to them. I feel very happy that I could do something for them, says Mamta.

With Ravi and Mamta's support, Rekha attended ANCs regularly and took proper care. As a result, she delivered a healthy baby girl in the last week of June. I am grateful to Global Giving and the project's donors for sponsoring my pregnancy. Nobody in my family has ever delivered in a good private facility like Merrygold. My baby is so lucky! I plan to name her Anjika, which means fortunate, says Rekha.

BLURB

The project has so far raised $10,509 from 79 individual donors. This has supported safe deliveries for over 15 women in UP