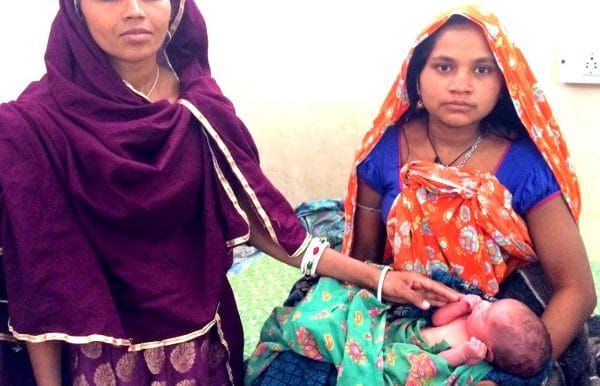 Delivering in a hospital felt much safer
Leela Devi from Varli Village in Rajasthan becomes the first woman in her community to opt for an institutional delivery, thanks to the consistent efforts by HLFPPTÔÇÖs MGHN Team members
For Leela Devi, hospitals had always meant the unfortunate last resort for dying people. The fact that expecting mothers visited hospitals for health check-ups and deliveries was unheard-of for this 20-year-old tribal woman from western Rajasthan. So, even till her eighth month of pregnancy, she had not felt the need for a medical consultation. An isolated life in a remote Mota Ketar hamlet of Varli Village, Sirohi district, had kept her widely ignorant about healthcare.
Varli is among the tribal belts of Pindwara block in Sirohi with small hamlets spread across a tough, hilly terrain. Accessibility is a major roadblock for residents who are compelled to travel 20 kms to reach the nearest health facility. Poor transportation, poverty and lack of awareness further drive the community towards a neglected outlook for maternal and child health. No wonder, non-institutional deliveries by midwives remained a norm in this area for decades.
A change stepped in when Sharwan Kumar, Out Reach Coordinator from Merrygold Health Network (MGHN) team, along with representatives from franchisee Vatsalya Merrygold Hospital, Pindwara visited the village in January 2015. ÔÇ£We realised that residents were ignorant about antenatal care, postnatal care, family planning, vaccination and other health related issues,ÔÇØ says Kumar. He encouraged active women from the community to join MGHN programme as Merry Tarang Members. Through their support, he further oriented the community members like Leela Devi about the benefits of institutional deliveries, nutritional intake during pregnancy and lactation, etc.
ÔÇ£Initially, nobody was convinced,ÔÇØ says Laali Baai Sugaram Grasiyaa, a Merry Tarang Member. ÔÇ£Money was a major constraint. However, when we told residents about the provision of quality healthcare at affordable prices at MGHN hospitals, they started listening to us,ÔÇØ she adds.
Her consistent efforts paid off after a month when Lela Devi and her husband, Laccha Ram Garasiya, agreed for an institutional delivery for their first child. With support from MGHN team members, Leela Devi delivered a baby boy at Vatsalya Merrygold Hospital, Pindwara, in the second week of February 2015. ÔÇ£I never knew that delivering in a hospital would be much safer,ÔÇØ says Leela Devi.
According to local people this was also the first institutional delivery of the village. In fact, through word of mouth, four more deliveries from the village have been done at the hospital since then.