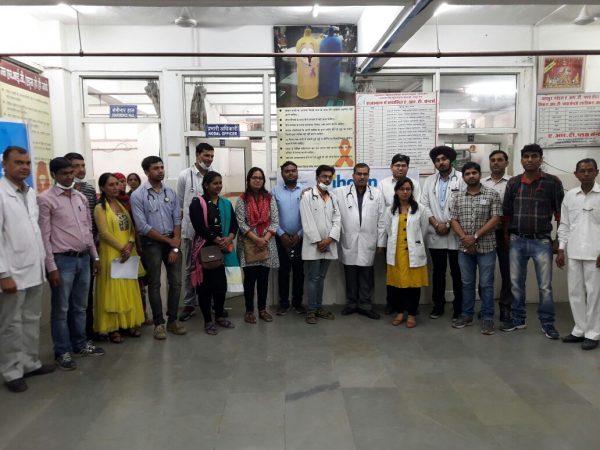 The Crucial Link between HIV & TB
RAJASTHAN: On World TB Day, Project Vihaan Team in Rajasthan organised Awareness Activities on Tuberculosis.
World TB Day, observed on 24th March 2017 on the theme of WHO "Unite to End TB" to generate awareness about the epidemic of Tuberculosis (TB) and efforts to eliminate the disease.
Numerous clients from community and their family members participated across the CSC initiated activities, workshops, rallies and community consultations. Pamphlets and IEC were also distributed to the masses. In Sikar district, Rajasthan, Project Vihaan Team observed TB week, including awareness activity at railway & bus station, distributed pamphlets, and increased case referrals for TB examination. Also, CSCs in Alwar, Jodhpur, Barmer & Bhilwara celebrated the day in coordination with respective District TB Department and through awareness rallies with the slogan of ÔÇÿTB Harega, Desh JeetegaÔÇÖ. Bikaner CSC organised a rally that was flagged by Dr CS Modi (DTO). It was moved to different places in the city with the slogan ÔÇÿHum sab ka ek hi naara, TB mukt desh hamaraÔÇÖ.
At state level, an interactive session was organised by HLFPPT at ART Center in Jaipur, with nearly 100 clients, to create awareness about Tuberculosis. Doctors from ARTC spoke about TB causes, treatment and diagnosis and shared one window system for PLHIV 99 DOTS. Some PLHIV who had TB and now have been cured, were promoted as TB Champions. They shared their experiences. Akshaya, a 14-year-old CLHIV student, said that he suffered from TB when he was only 7, but now he has faught the disease and living a healthy life. An oath-taking programme was also held to show solidarity for Unite to End TB.