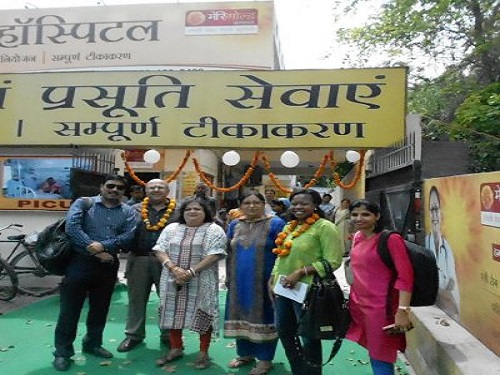 CHMI Offers Peer Learning Platform to HLFPPT
Washington-based Centre for Health Market Innovations (CHMI) has selected HLFPPT to participate in its new Peer Learning Programme Primary Care Adaptation Partnership (PCAP). It is aimed at supporting organisations in exploring promising & replicable practices in primary healthcare through meetings, field visits & interactions with service providers in a phased manner. CHMI has launched PCAP in alliance with African Capacity Alliance (ACA) & ACCESS Health International (AHI).
In Phase 1, HLFPPT (as Adopter) participated for learning from Kenya-based Jacaranda Health (as Originator). With its vision world where all women and their newborns experience childbirth safely and with dignity Jacaranda Health is designing & delivering better ways to improve quality of institutional maternity care in East Africa. During 6th-12th December 2015, CHMI supported HLFPPT's interactive field visit to Jacaranda Health, Nairobi, during which HLFPPT identified three Learning Areas:
Human Resource Management: Incorporate learning from Jacaranda Health to address high attrition rate and other Human Resource Management issues, through a one-day workshop with a pilot group of five franchisees.
Task-shifting: Reduce cost of health services by providing training to support staff/HSPs on Family Planning & facilitating FP Counseling Corners at five selected franchisee locations.
mHealth: Develop awareness on WHO-approved Family Planning methods through mobile app.
In Phase 2, a team from Jacaranda Health comprising Faith Muigai, Chief Medical Officer & Karim Moledina, Chief Operations Officer, visited HLFPPT Corporate Office and some health facilities under Merrygold Health Network during April 2016. The team interacted with MGHN stakeholders including beneficiaries, Merrytarang Members, etc, to understand the intervention, challenges & processes of quality assessment. Also, the team participated in community-based outreach activities such as Godbharai, health camp, etc. Jacaranda Health, which has been serving community through its own hospitals, now plans to adopt HLFPPTs social franchisee model (MGHN).