Supporting Assam Government to fight against COVID19 through Mobile Medical Unit-Assam Project managed by HLFPPT
Keeping in view of Corona Outbreak and preventive measures taken by the State Government and Local Administration, HLFPPT MMU-Assam Team have done several activities to combat the situation. Some of these are:
Stamping and Sticker pasting of Quarantine/Home
Door-to-Door Awareness Sessions
Monitoring of COVID19 patient
Operating of OPDs following Social Distancing guideline
Provide Medical guidance with the help of Local Police
Providing Transportation facilities
Block and Cluster level awareness sessions on COVID19
Extending counselling support through COVID19 helpline etc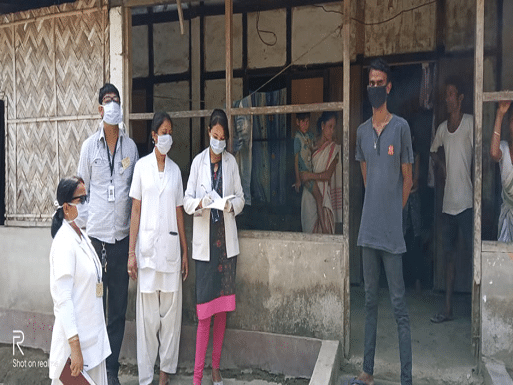 To support the Local administration, HLFPPT MMU Cachar-Assam team has started with quarantine stamping on the hand of outsiders and monitoring of 55 numbers of quarantine isolation facilities across the all tea garden of Cachar district.
Hand Sanitiser and Mask are provided by the local and state authorities to the technical staff for further distribution and also to protect themselves.
Pasting of Stickers in households where quarantined people are staying, stamping of individuals who have entered the state from different states after 14th March, screening of quarantined individuals are the few major activities which are being performed by the State Team.
A team of doctor and Nurse is also conducting door to door counselling in every district of Assam with support from local medical authorities
Also, functioning of OPD is also took place following Social Distancing Guideline issued by State and Central Government
Several Small Group Sessions were also conducted to know about the importance of Social Distancing and understand the COVID19 diseases