Quality Accreditation (NABH)
HLFPPT Foray into Quality Accreditation (NABH)
HLFPPT has pioneered into providing consultancy, guidance, and support to healthcare facilities (hospitals, nursing homes, clinics, etc) willing to get apply for NABH accreditation and certification.
HLFPPT provides services ranging from feasibility study to generating Gap analysis on NABH Standards for Medical/ dental colleges, hospitals, single specialty hospitals, multi-specialty hospitals, super-specialty hospitals, dental clinics, nursing homes, allopathic clinics, etc. The gap analysis is conducted on NABH Objective elements/ Processes, infrastructure, manpower, equipment & regulatory compliance.
Benefits of NABH Accreditation
Following are the key benefits that organizations can achieve with the implementation of the NABH accreditation system in any hospital and healthcare unit.
All facilities which plan to offer cashless service to its beneficiaries must be accredited with pre-accreditation entry-level NABH standards on or before July 2018
Accreditation results in high quality of care and patient safety ultimately enhancing word of mouth publicity and thus increased business generation
Better patient outcomes and quality indicators ultimately reduce service and operational cost of providing service to the patient
Accreditation to a health care organization stimulates continuous improvement.
It enables the organization in demonstrating a commitment to quality care.
It also provides an opportunity for the healthcare unit to benchmark with the best.
Accreditation provides access to reliable and certified information on facilities, infrastructure, and level of care.
Supports through documentation and process streamlining to prevent or deal with any medico-legal issues or cases
Key Features of HLFPPT's Accreditation Consultancy
Our teams are well trained and oriented for such activities and complete confidentiality of all information exchanged is assured during such activities. We adopt a very close hand-holding approach, ensuring that our Technical experts become an integral part of the systems at the Hospital.
HLFPPT's Steps during NABH accreditation consultancy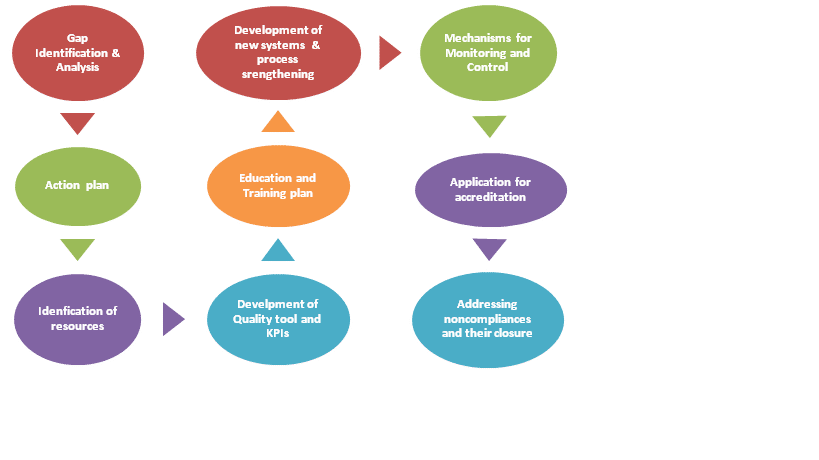 Under NABH following Accreditation Program are going on
Allopathic Clinics
AYUSH Hospitals (Ayurveda, Homeopathy, Siddha, Unani, Yoga naturopathy)
Blood Banks
Dental Facilities
Hospitals
Medical Imaging Services
Medical Laboratory Programme
OST Centre (Oral substitution therapy)
PHC/CHC Accreditation (primary health centers/community health centers)
Small Healthcare Organisations
Wellness Centre