Distribution of Ration, Medicine , Awareness Sessions and other essential goods to under CSR Support from various donor partners.
HLFPPT, through advocacy & liaison with companies seeking help under CSR fund to the people who need it are much helpful. Recently, in financial support received from Mahindra & Mahindra, Team HIV/AIDS Jaipur have distributed Medicine and Nutritional/Ration Kit.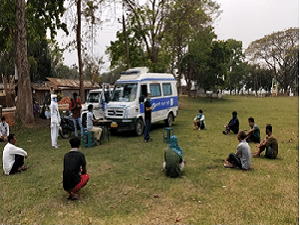 Community Awareness Session on COVID-19 and distribution of IEC leaflet by MMU-Assam Team
A small community awareness session were organised in Uttarakhnad by MMU-UK by HLFPPT Tehri team to sensitize local community about COVID-19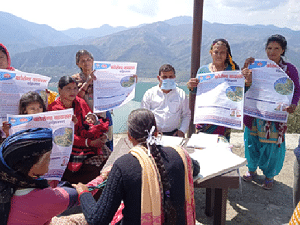 In Delhi under CSR Project of PTC India, various Community Awareness sessions have been done on "Detection and Prevention from COVID-19" in South East Delhi, North East and North West Districts of Delhi by Mobile Health Clinics.
Under the CSR Project of NPCIL, "Corona Virus Awareness Sessions" were conducted in remote village called Khinda in Odisha State.