A noble concept for Early Childhood Intervention – DEIC
"It's not a drug it's not a vaccine and it's not a device. It is a group of therapist working together, solving problems and enhancing capabilities"
– Adaptation from Richard Horton. – Lancet Editor
Background of the Program
With an annual birth cohort of almost 27 million, India is expected to have the largest number of infants born with birth defects
As per available estimates, 6% of children are born with birth defects
10% Children are detected with development delays, leading to disabilities
This Translates to more than 15 lakh new-borns with birth defects annually
Further, 4% of under-five Mortality & 10% of neonatal morality are attributed to birth defects
About District Early Intervention Centre (DEIC)
DEIC under RBSK provides the much needed early interventions services, which are easily approachable, adaptable user friendly and cost effective
Provides interdisciplinary approach of multi-disciplinary teams placed under one roof by housing age appropriate and domain specific equipment and with specific trained domain specialities
Acts as the apex centre of the district and ensures comprehensive services under one roof, with a holistic approach to children with special needs and also provides referral linkages
Provides referral support to children detected with health conditions during health screening, primarily for children up-to 6 years of age group
Early Identification and early Intervention Programme for these 4 Ds minimises the disability and therefore significantly improve the quality of their lives
Meaning of 4D: Defects at Birth, Diseases, Deficiencies, Developmental Delays & Disability
Interventions under DEIC
Screening, Diagnostics & Assessment for 4Ds
Domain Specific Intervention & Management
Evaluation, Review & Follow-Up
Referral to Tertiary Hospitals for Surgery
Referral to Tertiary Hospital for further management especially after 6 years
Investigations
Liasoning for Provision of Aids to Children
Services provided under DEIC
Medical Services (Screening, Management and Referral of 4Ds)
Dental services
Audiology (Helps in treating hearing issues)
Speech (Helps in speaking fluency & language improvement)
Occupational therapy and Physical therapy (helps in improving skills and reducing disabilities)
Psychological services
Vision services
Cognition services (helps in improvement of learning, attention and memory, hence improving intelligence)
Sensory services (Helps in treating autism and attention on deficit)
Special Education (Helps in reducing learning disabilities)
Service coordination
Lab services
ROLES OF HLFPPT
Centre of Excellence- District Early Intervention Centre (COE-DEIC) & Training Centre (Noida):
Hindustan Latex family Planning Promotion Trust (HLFPPT), with support from MoHFW & NHM-UP, is operationalizing one Centre of Excellence- DEIC & Training Centre at G.B Nagar, Sector-30, UP
This Noida Centre is developed as "First of its Kind" COE-DEIC & Training Centre as a Model DEIC for others and is having state-of-art infrastructure facilities, equipped with specialized and trained human resources with standardized treatment, diagnosis and referral protocols to ensure delivery of child friendly services.
This centre would be responsible for training other DEIC team for ensuring the standardized protocols of treatment and upgrading the skills
DEIC Ghaziabad:
HLFPPT with support from MoHFW & NHM-UP is also operationalizing one another DEIC in Ghaziabad.
In addition to that, other DEICs are in pipeline like- Haryana, Kerala, Assam, Himachal Pradesh, Jharkhand, Bihar & Delhi.
DEICs would provide standardized screening, treatment, referral and follow-up of all cases thereby improving both survival and development of children.
Glimpses of COE-DEIC & Training Centres Noida and DEIC Ghaziabad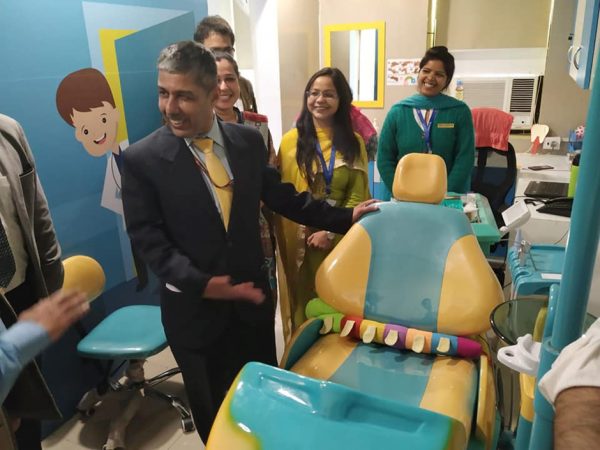 Sh. Manoj Jhalani, Mission Director (MD-NHM), MoHFW visited the Noida Centre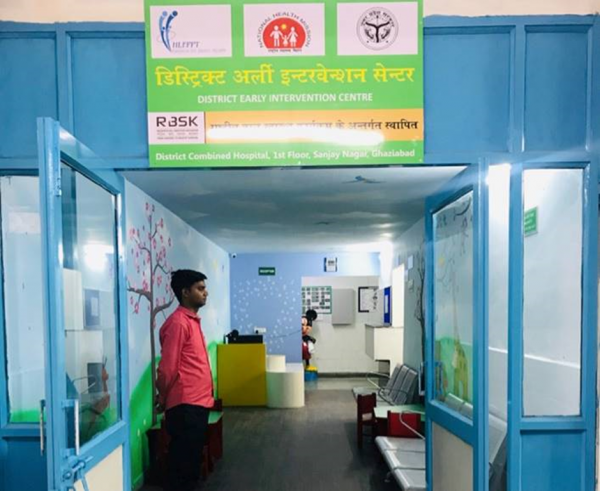 DEIC-Ghaziabad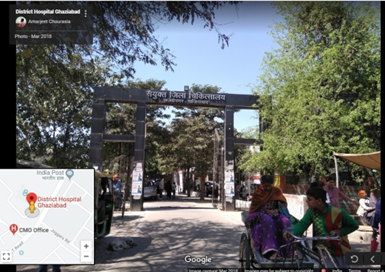 Building of DEIC Ghaziabad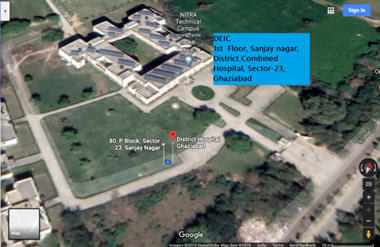 Map View of COE-DEIC (NOIDA)
Address
DEIC-NOIDA
COE-DEIC & Training Centre (Noida)- 3rd & 4th Floor, Tower No-9,
Super Speciality Paediatric Hospitality & Post Graduate Teaching Institute, Sector 30, Noida (U.P), Contact- 8287496259
DEIC Ghaziabad Centre
DEIC, 1st Floor, District Combined Hospital, Sanjay Nagar, Sector-23, Ghaziabad (UP)